A SPECTACULAR TRIP THROUGH THE WORLD'S OLDEST CHRISTIAN COUNTRIES
Georgia and Armenia are the oldest Christian countries in the world. Lose yourself in the ancient warren of lanes and courtyards in Georgia's beguiling capital. Discover the spectacular world heritage sites of Mtskheta, from the magnificent Jvari Monastery to an ancient city carved from sandstone. Your warm Caucasian welcome will continue in neighbouring Armenia. Pass mounds of perfumed apricots between huddled houses, and gaze at the snow-capped Mount Ararat rising above the foothills. Armenia's beautiful stone churches match the pink rust-colored cliffs that they nestle in.

Georgia and Armenia offer an unmatched combination of cultural treasures and dramatic landscapes that remain largely undiscovered by the wider world. Everywhere you go will be suffused with the proud traditions of the past and a generous swig of hospitality. RASK gives you the opportunity to breathe in this powerful whiff of history, to immerse yourselves in the seductive countryside, slide your tongue over Georgian wine and a kick of Armenian cognac and return home with a lifetime of memories.
DAY-BY-DAY ITINERARY

DAY ONE: Arrive in Georgia

Upon arrival at Tbilisi international airport we meet you to transfer to your hotel where you can relax.
DAY TWO: Tbilisi
Tbilisi is the capital and the largest city of Georgia. Founded in the 5 th century AD by Vakhtang Gorgasali, the Georgian King of Kartli (Iberia) and made into a capital in the 6th century, Tbilisi is a significant industrial, social, and cultural centre.

We embark on a walking tour of the city, passing through the old quarters and the centre, with its famous sulfur springs along the Mtkvari River. Traditional houses with balconies and grape vines accompany our stroll towards the 4thNarikhala century fortress overlooking the city. The view from the fortress is awe inspiring. In the afternoon we visit State Museum of Georgia. During city tour you will visit Georgian State Museum.
DAY THREE:  Tbilisi to Kazbegi

In the morning after breakfast proceed to Mskheta  – the ancient capital of Georgia  and UNESCO world cultural heritage attraction which is situated at the confluence of two rivers Mtkvari and Aragvi. There we visit beautifully situated on a cliff Jvari Monastsery  (6 c), that shoots up into a very blue of sky and Svetitkhoveli cathedaral of 8 century. After enjoying breathtaking views of the impressive landscapes of Mtsketa, and tasty lunch a beautiful drive takes us along charming Caucasus Mountains, to a small town Stepantsminda located at the base of Mount Kazbek (5047 m) in the mountains.  On the way to Kazbegi there will be a few stops for taking pictures and enjoying the majestic beauty of the Caucasus Mountains.  En route we visit
Annanuri  – an amazing architectural complex of the 17th century overlooking turquoise Zhinvali reservoir.

DAY FOUR: Kazbegi
In the morning after breakfast 4 wheel-drive to Gergeti Holy Trinity Church, built in the 14th century situated on the hill at an elevation of 2100 meters. From this spot you have an unforgettable view of Mount Kazbek, reaching 5047 meters and covered with glaciers and permafrost. This is one of the absolute highlights of our trip. According to the legend, the titan Prometheus who brought fire to men was chained on the Mount Kazbek.
Later we visit Daryali gorge and Gveleti waterfall, and following lunch drive towards Sno gorge, to Juta village from where you can enjoy magnificent and fascinating Caucasus Mountains covered with eternal snow totally different from other parts of the Caucasus range.
DAY FIVE: Kazbegi to Signagi
In the morning after breakfast drive to the very eastern part of Georgia, known for its exquisite wines, warm hospitality, scenic landscapes and generous people. En route visit to wine museum "Qvevri".
DAY SIX: Signagi
Today we are going to explore a majestic town of Signagi. The charming town with rich history is beautifully situated on the hill surrounded by a fortified wall and is considered to be the second longest wall after Great Wall of China.
You will also visit Signagi state museum that exhibits Archaeology, Ethnography and Medieval expositions. At the town we visit Bodbe Monastery, one of the holiest places in Georgia, where St. Nino is buried – a woman who brought Christianity to Georgia in 337. After enjoying picturesque Signagi, it`s time to indulge in a special lunch at Chateau near Signagi.
There together with local chef you are welcome to participate in making "Churchkela" – a traditional Georgian delicacy – a mixture of walnuts and grapes juice. You will participate in preparing famous delicious Georgian dishes "Khinkali"- Georgian dumplings with spices and "Mtsvadi" – Georgian barbeque and "Khachapuri" – Georgian cheese pie.
You will learn about traditional bread baking and how to distil Georgian Grappa "Chacha" and of course you will learn a lot about old methods of wine making in Georgia and taste "Qvevri" wine.
DAY SEVEN: Signagi to Tbilisi
Today after delicious breakfast, and enjoying sunrise over the Allazany valley, we head for the biggest winery tunnel in Georgia, Kvareli winery, the length of which is 7.7 km.  The tunnel in its vaults keeps the huge collection of vintage wines; the oldest of them are produced in 1840.
After wine tasting in Kvareli winery and excursion, our next stop is breathtaking royal fortress Gremi (16th century). Architectural complex, with the church of the Archangels, has striking grandeur and austere beauty, expressive and brilliant splendour.
DAY EIGHT: Tbilisi to Gori
After breakfast drive to Gori town – the birthplace of Josef Stalin where we visit Stalin`s museum and the cave town Uplistsikhe (Fortress of the Lord) of the 1st millennium BC.  The rock-hewn town includes houses, temples, streets, and Roman theatres which were carved out of the cliffs. Drive back to Tbilisi.
DAY NINE: (Georgia to Armenia) Sadakhlo – Akhtala Fortress – Haghpat – Dzoraget

Meet at Armenia – Georgia Sadakhlo border. After border formalities drive to Akhtala Forteress (10th c.) famous for its well-preserved artistic frescos. It has a specific location on a peninsula-like area, surrounded by rocky gorges. Proceed to Haghpat Monastery (10th c,) a vivid example of the medieval Armenian architecture and a religious and cultural center. Drive to Avan Dzoraget Hotel that sits along Debed River, nestled among the forest-covered hills and rocky slope of Caucasus Mountains. Overnight at Avan Dzoraget Hotel in Lori.
DAY TEN: Avan Dzoraget – Lake Sevan – Garni – Geghard – Yerevan
After breakfast at the hotel, drive to the pearl of Armenia, Lake Sevan. Located at about 2000 m above the sea level, the Sevan is one of the world's largest fresh-water reservoirs. Sightseeing tour on the Peninsula to visit Sevanavank Monastery that has long been a military shelter for Armenian kings. Proceed to Kotrayk region to visit Garni Temple dating back to the 1st century. The citadel and pagan temple is a picturesque monument of the Hellenistic period and an impressive piece of ancient Armenian architecture dedicated to a heathen god of the sun Mitra. Continue north-west to Geghard Monastery a unique sample of Armenian architecture partly carved in rocks and protected by UNESCO as a World Heritage Site. The meaning, "the Monastery of the Spear", originates from the spear, which had wounded Jesus during his crucifixion, brought to Armenia by Apostle Thaddeus.  Return to Yerevan. Overnight at the hotel in Yerevan.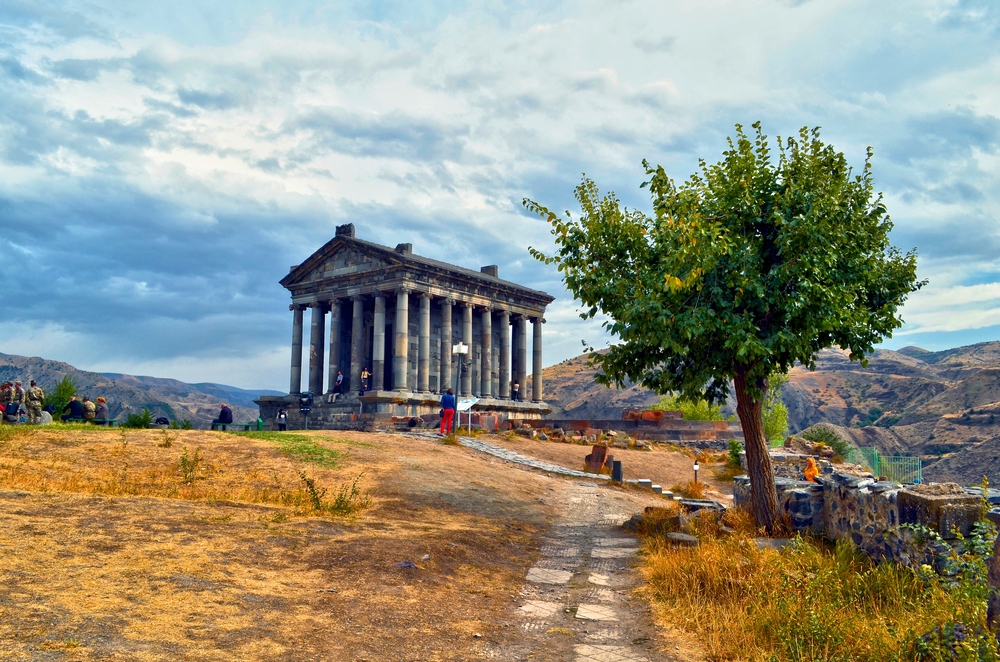 DAY ELEVEN: Yerevan city tour – Matenadaran – Brandy factory
After breakfast at the hotel start the exploration of the vibrant city of Yerevan dating back to 782 B. C.,  where ancient culture is mixed with modern lifestyle and great traditions. We start our walking tour from the Republic Square, the masterpiece of the architect Alexander Tamanian. Continue to the Opera House, a stunning architectural piece and the hub of Yerevan. Freedom Square is just behind, surrounded by parks which have been taken over by outdoor cafes, and finally Swan Lake. Next we are in Cascade complex, an open-air museum of modern art with massive stairways leading up to the Victory Park to have a fantastic view to the entire downtown from above. Visit Matenadaran one of the world's largest depositories that holds over 23 000 manuscripts and ancient parchments from all over Europe and Asia. Our next stop is at a must-see sight of Genocide Memorial. Brandy degustation at Ararat Brandy Factory. Armenia is world-renowned for its brandy. Winston Churchill was offered Armenian brandy by Joseph Stalin at the Yalta Conference and he was so impressed that asked for several cases of it to be shipped to him each year. Overnight at the hotel in Yerevan.

DAY TWELVE: Yerevan – Echmiadzin – Zvartnots – Yerevan
After breakfast at the hotel departure to Echmiadzin, the religious center of Armenia and the seat of the Catholicos. Visit the Cathedral of Echmiadzin, which is the most ancient Christian temple in the world. The name Echmiadzin means "descent of the Only Begotten". It was believed to have been designated in a vision where Christ came to earth and struck the plains with a golden hammer. The cathedral is listed as a UNESCO World Heritage site. En route to Yerevan stop at the ruins of Zvartnots (7th c., UNESCO) a masterpiece of the Armenian architecture. Return to Yerevan. Visit the Armenian food market, a hub of activity, fragrant and packed with hundreds of stalls of farmers, bakers that actually grow and prepare their own food. The narrow aisles are filled with food stands stocked with dry fruits and vegetables, meat, fish, herbs, spices and endless mountains of Armenian lavash rolls. Overnight at the hotel in Yerevan.

DAY THIRTEEN: Departure
INCLUSIONS:
Four overnights in ****Rooms Tbilisi hotel (Georgia)
Two overnights in *****Rooms Kazbegi hotel (Georgia)
Two overnights in ****Kabadoni boutique (Georgia)
Three overnights in ***** Golden Tulip hotel (Yerevan, Armenia)
One overnight in **** Avant Dzoraget hotel (Dzoraget)
Transportation during tours and transfers
Wine tasting
Meals (B & B) + one special lunch at Chateau in Signagi (Georgia)
Entry Tickets
Professional English speaking guide
Bottle of water per person a day
Exclusions:
Air tickets
Travel Insurance
Early check ins
Tips