SAIL ALONG RIVER DOURO AND ITS STEEP VINEYARDS!
Through this 8 day itinerary, we take you to explore the Douro Region in depth, in an intimate encounter with all the features that make it unique.
Depart on this experience diving into the color pallet that the Douro has to offer. Five days of this tour will be on a charming private boat in the Douro Valley with skipper and along the way you will stop at places of interest, have traditional meals and evidently Porto Wine tastings – the most famous wine of the region!
To these five days we have added two more days, on arrival and departure, so you can get prepared for this adventure in Porto before it all begins and, of course, so that you can also get to know the capital of the North of Portugal.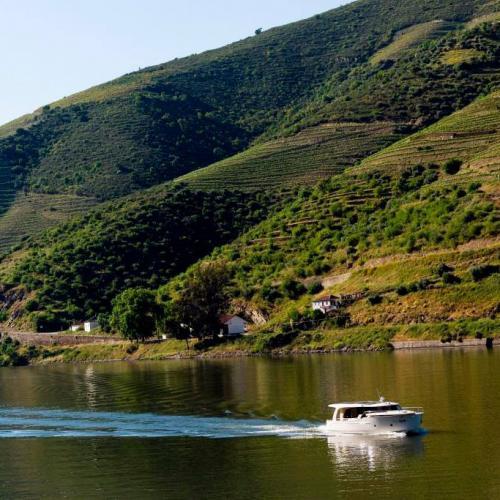 DAY-BY-DAY ITINERARY:
Day 1
Arrival in Porto and private transfer from Porto's airport to the hotel in the city center.
Accommodation for 1 night in Porto – The Yeatman
Day 2
Private transfer to Marina do Douro and embark on a private cruise. Lunch will be served on board. Navigate through the Douro River to Pinhão. Overnight on board.
Day 3
Private Cruise from Pinhão to Barca D'Alva, close to Spain. Overnight on board.
Day 4
Private Cruise to Senhora da Ribeira. Stop in Pocinho and transfer to Torre de Moncorvo to visit the place and to have a traditional lunch. During the afternoon visit the Archaeological Park of Vale do Côa and embark once again in Foz do Sabor. Then continue to the final destination of the day. Overnight on board.
Day 5
Private Cruise to Pinhão. Lunch at a local restaurant followed by a visit to Casal de Loivos belvedere and a visit to Quinta do Panascal. Overnight on board.
Day 6
Check-out of the river cruise and private transfer to Porto. On the way we suggest that you visit wine estates and museums in the Douro. Leaving the cruise, the first visit will be to Quinta do Seixo, followed by the visit to the Douro Museum. Nearby you will find the Quinta da Pacheca, where you can enjoy a delicious lunch. In the afternoon continue to Porto, passing by Solar de Mateus in Vila Real.
Accommodation for 2 nights in Porto – The Yeatman
Day 7
Half day private tour of Porto with driver and tour guide. Free afternoon for personal activities.
Day 8
Hotel check-out and private transfer to Porto's airport.

PLACES YOU'LL VISIT
Porto 
Porto is at the same time the name of a city and a fortified wine, one of the most famous in the world, aged at the wine cellars of Vila Nova de Gaia, next to the Douro River. Its historical center has been declared a World Heritage Site by UNESCO and preserves many beautiful monuments, namely from the Baroque period which is contemporary to the glory and wealth achieved with the trade of Port Wine. You shall not miss a visit to the Cathedral (Sé), the Church of Saint Francis, the Stock Exchange Palace and the Clérigos Tower.
Douro Valley
Douro Valley is where the terraced hill slopes hide one of the country's most valuable treasures: the beautiful vineyards from where the worldwide famous Port wine is still nowadays produced. Driving through Marão Mountain range get prepared to enjoy one of the most wonderful landscapes in the world, with endless rows of vines dotting the slopes in the banks of the Douro River.
Douro River Cruise
During these days you will have the opportunity to entrance on board of that luxury boat and appreciate that unique experience that will be a private cruise along the river. During 5 days you will navigate along the Douro River while enjoy the flavors of some regional products and the wines of Porto and Douro.
Solar de Mateus
Solar de Mateus is a Baroque manor house from the 18th century highly well-known after becoming the label of Mateus Rosé wine. Its construction was possible due to the wealth that Port wine brought to ancient and traditional Portuguese families. The owners, descendants of the founder, still live here, but it is possible to visit the gardens and part of the house.
Our price includes:
– 1 Night accommodation in Porto – The Yeatman on a Superior Double Room
– 5 Night accommodation on board on a boat of 12 meters with 2 Double Cabins
– 2 Night accommodation in Porto – The Yeatman on a Superior Double Room
– 3 Breakfasts
– 5 Days Private River Cruise in Douro on a boat of 12 meters (fuel, insurance, crew)
– Arrival Private Transfer from Porto's Airport to the Hotel The Yeatman with driver
– Private Transfer from The Yeatman to Douro Marina with driver
– Transfer and Tour of Douro Valley – Torre de Moncorvo and Foz Côa – 3rd Day in a Local Taxi
– Transfer and Tour of Douro Valley –Casal de Loivos Belvedere and Quinta do Panascal – 4th Day in a Local Taxi
– Transfer and Tour of Douro Valley to Porto – Quinta do Seixo, Douro Museum, Quinta da Pacheca and Solar de Mateus – 5th Day – with driver
– Half Day Private Tour of Porto with driver and tour guide
– Departure Private Transfer from the Hotel The Yeatman to Porto's Airport
– Lunch on board (2nd Day of the Itinerary)
– Personalized itinerary to Portugal
– Travel Consultancy Service
– Local phone support in Portugal (24 hours)
– Welcome Manual (Essentials) to Portugal by Tours For You (PDF File) in English

Optional:
– If you prefer to stay at charming hotels in Douro Valley, instead of sleep on board, please consult us.
– Upgrade to Deluxe transport on days 3, 4 and 5 of the itinerary, please consult us.



Not included:
– Meals (Breakfast, Lunch and Dinner, except where mentioned in the inclusions)
– Visits and Wine Tastings in Wine Estates
– Entrance fees to monuments
– Air fares
– Luggage and Journey insurance (we suggest that you take these insurances in your home country)
– Personal Expenses
– Transfers not mentioned on the Program