10 - night Cape Town | Winelands | Hermanus | Safari
Whatever you want to do. Wherever you want to go. Whenever you feel like it.
These are the only rules that govern RASK Undiscorvered tours, where your own spirit of adventure is your guide, and whatever your heart desires is the ultimate destination.
Check this incredible South Africa 10-day sample itinerary, put together for you by RASK's local partners!

Detailed Itinerary
Day 1
Arrival Day
Arrive at Cape Town International Airport. Clear through customs, collect your luggage and exit into the arrivals hall where you will be greeted by our representative.
Receive a brief orientation of your trip and be presented with your tour documents while en route to the V&A Waterfront for a 3-night stay.
The waterfront is a world-renowned melting pot of cultures, activities, shops, restaurants and bars.
Spend the rest of your day recovering from your long journey.
Property (Overnight 3-nights):
Premier Option: The Cape Grace – Luxury Room
Luxury Option: V&A Hotel – Mountain Room
Meals included: None

Day 2 (Saturday)
Morning City Tour | Afternoon at Leisure
Following breakfast, be collected by private guide and head directly to Table Mountain. Enjoy the cable car ride to the top where you can take in the views, walk on the paths and spend some time exploring this iconic mountain.
Upon descent, continue to the very trendy Old Biscuit Mill's Neighbourgoods Market.
The Neighbourgoods Market is an award-winning market that features over 100 specialty traders every Saturday, creating a weekly platform for local farmers, fine-food purveyors, organic merchants, bakers and distributors, grocers, mongers, butchers, artisan producers, celebrated local chefs, and micro enterprises. The market is housed in an old sky-lit brick warehouse and courtyard at the Old Biscuit Mill in the industrial neighborhood of Woodstock, Cape Town. It is as much a source for farm fresh as well as organic foods and locally produced specialty goods, as it is a meeting point to enjoy community and swap ideas and stories.
Following the market, and depending how much time you spend there, visit other highlights of the city such as Green Market Square and the Bo-Kaap neighborhood where you can stop at the Carrol Boyes & Monkeybiz factory for a chance to purchase some beautiful authentic African beaded goods or homeware / table top items.
Meals included: Breakfast
Day 3
Full Day Peninsula Tour
Following breakfast, depart by road with your guide on a private full day tour of the Cape Peninsula.
Your trip will include a visit to Cape Point where Bartholomew Diaz discovered the sea route to India way back in 1488, a stop in Simon's Town where wild penguins co-habit with humans, a drive through the famous beaches of Cape Town …….. and much more.
Arrive in the late afternoon at your hotel.
Meals included: Breakfast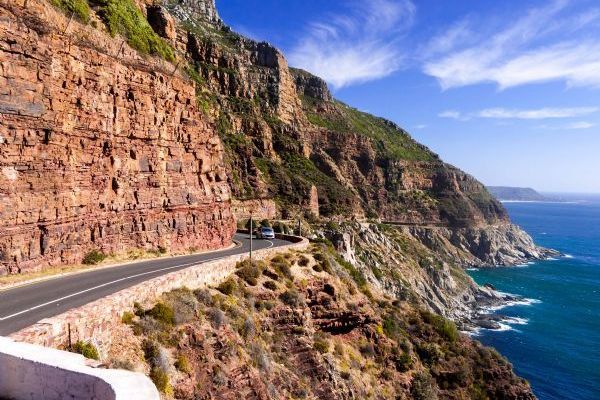 Day 4
Winelands Transfer | Village shopping
Following breakfast, spend the morning relaxing and preparing for a late morning departure.
Enjoy a leisurely-guided drive towards the Winelands stopping in the small village of Franschhoek to meander through its quaint shops. Enjoy lunch at one of the many restaurants on offer before continuing to your hotel for an afternoon check-in.
Shopping in Franschhoek is a shopaholic's dream. Mingled in between the village's café's and restaurants you'll find a treasure trove of retail magic. There is truly something for everyone. Whether you are looking for antiques, collectable books, diamond jewellery, designer clothing, artworks or chocolate you'll find the best of these and much more along the Main Street.
Property (Overnight 2-nights):
Premier Option: Delaire Graff – Deluxe Lodge
Luxury Option: Babylonstoren – One bedroom Suite
Meals included: Breakfast

Day 5
Full Day Cape Winelands Tour
Following breakfast, be collected by your private guide for a full day tour of the Cape Winelands. Start the day with a visit to the Huguenot Memorial, followed by wine tastings and a cellar tour.
There are literally hundreds of wineries to choose from, so we will hand select the very best. Although we have the day loosely planned out, we know from experience that it is a good idea to be flexible with our estate choices !
Examples of some of our favorite recommendations, chosen for atmosphere as well as excellence, are :
Grande Provence (Franschhoek) has a 4-star track record over two or more vintages in the Platter's SA Wine Guide. It is a beautiful estate and produces Cabernet Sauvignon and Shiraz in the red range, and Sauvignon Blanc, Chardonnay and Chenin Blanc in the white range, as well as an oak-aged, fortified Muscat wine from hanepoot grapes.
Chamonix (Franschhoek) has a 300 year old tasting room with an unbeatable atmosphere and its Chardonnay called Chamonix Reserve 2008 and red blend Chamonix Rouge 2007 are amongst the Platter's 2010 Wines of the Year.
Tokara (Stellenbosch) is situated on Helshoogte Pass with views that take your breath away (opposite Delaire Graff). All their wines earn at least 4 stars in Platter's, and one, the Elgin Sauvignon Blanc 2008 boasts 5 stars. Their flagship Red blend is the only Cape red wine selling by the glass at the legendary UK restaurant called The Fat Duck.
Rust en Vrede Estate (Stellenbosch). This historic wine estate was established in 1694 and owner Jean Engelbrecht is very careful to preserve its centuries old heritage. The shiraz-cabernet blend called '1694' honours the date the property was granted and has already earned 93 points from Wine Spectator and a double gold from Veritas.
Enjoy a fabulous lunch at one of the estates compliments of RASK before heading back to your hotel.
Meals included: Breakfast | Wine estate lunch

Day 6
Hermanus Transfer
Following breakfast and a relaxing morning, enjoy the scenic trip to Hermanus.
Hermanus is fast becoming one of the most loved holiday destinations in South Africa. Wedged between mountain and sea offering spectacular views over Walker Bay, Hermanus promises remarkable natural beauty in the heart of the beautiful Cape Whale Coast in the Western Cape.
During the past decade, Hermanus has grown into a vibrant seaside destination complemented by fine restaurants, numerous art galleries, boutiques, shops as well as a multitude of outdoor and adventure activities for nature enthusiasts.
On arrival in Hermanus, be dropped at a private residence for the rare chance to enjoy a home cooked traditional African meal!
Lunch will be prepared for you in the private home of a South African family living in Hermanus with specially paired wines from the host's private cellar. Enjoy your afternoon mingling with local South Africans before checking in to your seaside accommodation for a 2-night stay.
Property (Overnight 2-nights):
Premier Option: Birkenhead House – Superior Room
Luxury Option: The Marine – Luxury Room
Meals included: Breakfast | Lunch in private home

Day 7
Fixed Wing Flight | Full Day Tour Hermanus
Following an early breakfast depart for a full day excursion.
Start the day with a fixed wing scenic flight to Cape Agulhas. Spot hundreds of Southern Right Whales (seasonal) from the air while en route to fly over the Southern most tip of the African continent. Land back at the airfield in Hermanus and continue to the Hemel-en-Aarde wine valley to enjoy some wine tastings.
The Hemel-en-Aarde Valley is an "off-the-beaten track" wine route with a relaxed atmosphere. Its name meaning "heaven and earth", not only produces award-winning wines but is without a doubt one of the most breathtaking valleys to visit.
Two of the top wineries found here include such labels as Hamilton Russel, the oldest winery in the valley, and Bouchard Finlayson.
Take your time, soak up the views and taste some great wines before heading back into town to meander around the shops or enjoy some land based whale watching while walking along the sea cliff path.
Meals included: Breakfast

Day 8
Safari Transfer
Following breakfast, transfer by road to Cape Town airport in time to connect on your mid morning commercial flight to Nelspruit. On arrival board a light aircraft for a short hop to your safari lodge where you will enjoy a 3-night stay.
Your private game reserve shares an unfenced boarder with the Kruger National Park allowing elephant, lion, leopard, rhino, buffalo as well as a variety of plains game such as zebra, giraffe and antelope species to roam freely between the reserves.
Two game drives a day, conducted by professional rangers in open 4×4 vehicles, ensure that you get as close as possible to the wildlife. Your return is celebrated with gastronomic splendor, courtesy of the lodge's resident chef.
Your safari is inclusive of:
All meals, snacks, teas/coffees, local drinks
Twice daily game drives with a dedicated ranger
Daily laundry service (premier option only)
Property (Overnight 3-nights):
Premier Option: Singita
Luxury Option: Motswari
Meals included: Breakfast | All meals once at camp, house wine and drinks (no premium brands)

Day 9, 10
Safari
 Enjoy twice daily safari activities.
Meals included: All meals, house wine and drinks (no premium brands)

Day 11
Departure Day
Following your morning game drive and breakfast, prepare to depart directly from camp by air to Johannesburg. On arrival, transfer to the International terminal where you will check in for your evening flight home.
Meals included: Breakfast.


Included in this program:
All accommodation
Game drives – as available at safari destination
Park fees – safari destination
Qualified ranger & tracker – safari destination
Meals / drinks as indicated
Internal flights – combination of commercial economy & shared charters
Tours as indicated on the day program (all private)
Entrance fees & wine tasting costs on included day programs
Fixed wing flight to Cape Agulhas
All private airport transfers
Canvas & leather travel bag per person
Canvas & leather documents file per room sharing